---
Consulting Services Coaching Packages Tea with Louise About Contact
---
Are you feeling lost or confused as to what to do about your work or life?

Are you considering some changes or in the middle of a transition?

Do you want to live more authentically?
With Let's Go Forward! you can:
Feel new inspiration, confidently knowing what your gifts are
Find the strategies that will work best for you
Get support to carry out your action plan
Become re-energized and peaceful
Louise's holistic approach to coaching has been a breath of fresh air. She helped me keep my strong sense of spiritual commitment as I developed a strategy and implemented structure to grow my business. Her encouragement and support coupled with knowledge and ability to see 'the big picture' from my perspective (especially in times when I was unable to) have been instrumental in my progress and success. The humor, kindness and wisdom present in Louise's style of coaching are fundamental to feeling supported and encouraged to grow and thrive.
Stephanie S., naturopathic health practitioner
Let's Go Forward! Consulting Services
Individual Consultation by the Hour
Team Consulting for Organizations
Training for Supervisory Development
Coaching Packages
FAST TRACK
2 Extended Coaching Sessions per month in-person (90 minutes each)
1 regular Coaching Session per month in-person (50 minutes each)
Phone Check-Ins as needed (5-15 min. each)
3 Individually Prepared Assignments
Unlimited E-mail support
$499 per month
BIG JUMP
3 Coaching Sessions Per Month phone or in-person (50 minutes each)
3 Individually Prepared Assignments
E-mail support
$399 per month
ON YOUR WAY
2 Coaching Sessions Per Month phone or in-person (50 minutes each)
2 Individually Prepared Assignments
E-mail support
$299 per month
Let's Go Forward! career consulting and life coaching services are customized and flexible to support your business and personal needs.
Louise Goeckel is a senior, degreed career counselor and experienced life coach, with a strong business background, and a track record of helping clients create lives bigger and better than they ever imagined.

Let's Go Forward! has no minimum requirements for our services.
We have learned that the best progress happens with commitment. So clients are encouraged to make a personal commitment to themselves and/or their businesses, for a minimum of 3 months of coaching. The amount of time spent in the coaching process is completely up to each individual client.
Upcoming Tea with Louise Workshop Series
Let's Go Forward! offers Tea with Louise, workshops offered several times throughout the year in Alameda, California.
The next offering is scheduled to start on Sunday, May 22, 2016. It will be a small group (less than 9 people) developing their creatvie living skills using THE ARTIST'S WAY by Julia Cameron.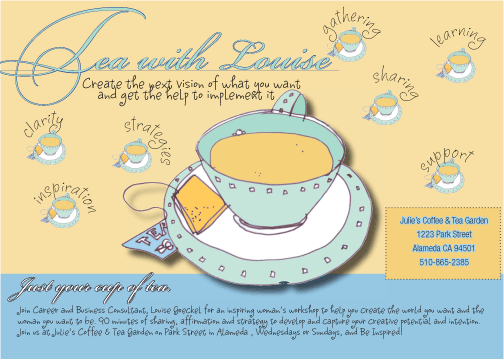 Yes, I believe we can all create the work and life we want!
Let's capture and develop your creativity skills to help you go forward!
These are wonderful gatherings where you get to share your learning experiences, expand your creative thinking and connect with others from our lovely community.

THE ARTIST'S WAY Sessions:
When: Sundays, every other week, starting May 22, 2016 from 10:00AM to 11:30AM for six sessions.
Who: small group of people (up to 8) who are ready to re-energize their creativity skills for their artistic, leadership, parenting and/or their work lives
What: 6 professionally facilitated meetings with up-to-date teachings and insights
Where: Let's Go Forward office, Alameda, CA 94501
How much: $199.00 for the series of 6 sessions
Why: you deserve expert advice and support to develop your creativity skills
$199 cash, credit card or check payment due before or at first session.

Rooted in a foundation of leadership development, executive coaching, career counseling, human resources training, employee and college student recruiting, and as being a manager leading a staff of 60+ in community health services, Louise Goeckel, offers this inspired approach to structuring one's life, work and if needed, your job search.

Reservations required 510-749-9624 or email Louise@letsgoforward.biz
About Louise Goeckel
Louise Goeckel, Career Consultant and World of Work Expert, leads individuals and facilitates groups to finding their life purpose. With a Master's degree in counseling and 20+ years of experience providing Business and Professional Development consulting, Louise shares her warm style and quick wisdom. As a leader, teacher and facilitator, she enjoys shepherding for the group's integrity, the meeting's objectives, AND the delight and fun of people becoming comfortable being themselves.
Her personal interests center around gardening, spiritual direction, leadership and laughing.
Associations
Contact Let's Go Forward!
Louise Goeckel, M.A.
mailing address is 200 Santa Clara Avenue, Alameda, CA 94501
510-749-9624
Louise@LetsGoForward.biz



All Rights Reserved Let's Go Forward 2011
Website by CappellettiDesigns.com